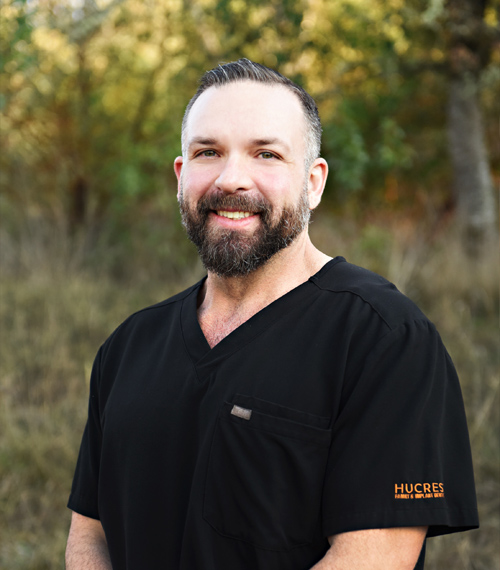 Dr. Kobernik is a dual board certified Dentist Anesthesiologist earned through NYU Langone Hospitals – Brooklyn under a three year residency. His professional interests focus on anesthesia for dental patients along with dental alveolar surgery, extractions, advanced bone grafting procedures, and dental implant procedures. His experience and ongoing education gave him opportunities to mentor and teach other dentists in the field of implant dentistry.
In 2006, Dr. Kobernik received his Doctorate in Medical Dentistry from Oregon Health and Science University in Portland, OR. Upon graduation, he accepted a position as an associate dentist for the Medical Center Dental Office in Pendleton, OR. While there, he was staffed at St. Anthony's Hospital where he provided dentistry to adults, children, and those patients with developmental delays under general anesthesia with the assistance of a separate anesthesia provider in an operating room setting. Additionally, he sat on St. Anthony's Anesthesia Committee and Cancer Care Committee.
On November 8, 2014, Dr. Kobernik was honored with the American Academy of Implant Dentistry's Associate Fellow designation after passing rigorous written and oral exams. While maintaining his practice established in Roseburg at the beginning of 2009, Dr. Kobernik has proudly served as the past president and past vice president of our local Oregon Dental Society affiliate, the Umpqua Dental Society.
Although Dr. Kobernik was trained in IV Moderate Sedation and was able to sedate his patients in office for a variety of dental procedures, he recognized that many patients needed to be sedated to a greater level than what is allowed by the Oregon Board of Dentistry under an IV Moderate Sedation permit. Because of the profound need for in office sedation and anesthesia, his history of working in hospital setting, and his work with other anesthesia providers, Dr. Kobernik decided to put his private practice on hold and go to residency.
His interest in anesthesia took him to New York where he was recognized for his outstanding service by his program directors and was thus named Chief Resident at NYU's Dental Anesthesia residency for two of the three years he was in Brooklyn. While in residency, Dr. Kobernik, spoke at multiple events for the American Dental Society of Anesthesia including the national meetings held in Chicago, IL, Brooklyn, NY, and Portland, OR.
As a good standing member of Oregon Dental Association, Oregon Academy of General Dentistry, American Academy of Implant Dentistry, and resident member of both the American Dental Society of Anesthesia and the American Society of Dentist Anesthesiologists, Dr. Kobernik does his best to represent the profession as a whole while caring for his patients.
Born in Eugene, Dr. White grew up enjoying the outdoors. He graduated from the University of Oregon in 2002 with a Bachelor of Science in Biology and soon after moved to Portland to attend the OHSU School of Dentistry.
In 2006, after graduating with honors, he returned to Eugene to practice dentistry for the next 10 years in a group practice as an associate dentist. After a number of years, Dr White decided that a smaller town would be better suited to raise his family. Having grown up enjoying the Umpqua Valley, he jumped at the opportunity to work with his former classmate, Dr Kobernik.
Dr White enjoys all aspects of dentistry, but especially enjoys dental implant procedures, surgery, Invisalign and root canal therapy. In 2013, he became an Affiliate Associate Fellow of the American Academy of Implant Dentistry and is a member of the Oregon Academy of General Dentistry.
In his free time, Dr White can be found hunting, fishing, riding his motorcycle and coaching youth athletics.