WHERE ROSEBURG COMES TO SMILE
Welcome to Hucrest Family Dental
With state-of-the-art techniques, including dental implants to replace missing teeth, digital x-ray technology, and all levels of sedation, Dr. Kobernik, Dr. White and their team give you access to all the benefits of modern dentistry.
By actively preventing disease and decay through regular home care, professional dental cleanings and regular exams, we'll partner with you to maintain your healthy, beautiful smile. Prevention is always better than treatment, so if it's been a while since you've seen a dentist, please give us a call to schedule an appointment.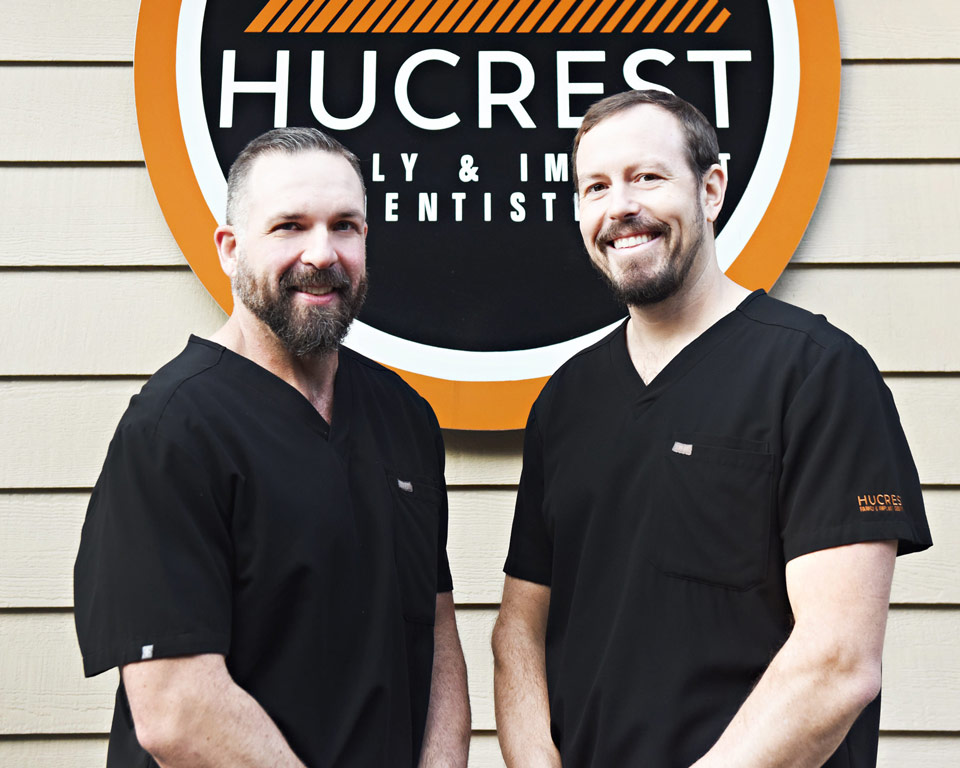 Dr. Kobernik is one of the kindest dentists I have ever been to. He treats my entire family and each member has been treated with respect and kindness. My 6 year old son had a great visit because Dr. Kobernik made him feel at ease and was even able to joke and laugh with him. Every visit I feel like family at Dr. Kobernik's office. We cried when we had to move from Oregon because that meant we would lose our connection with these great people! I would recommend Dr. Kobernik to anyone looking for a great family dentist!
Best dentist and staff in town! Hands down! I've been to other dentist offices, but none offer the individualized care this office gives. Friendly and knowledgeable staff.
I just finished filling in for one of their hygienists. It was an AWESOME experience. Dr. Kobernik has raised the bar for Dentistry in Douglas County. He is passionate about providing the best care and continuing his education. He has integrity that is rare to find. His staff is incredible. They made me feel right at home. I will miss spending my days at this office.
I was most impressed with Dr. Kobernik's chairside manner with myself and my husband. We were new to the office and he and his staff seem very caring and were able to schedule our appointments at times that fit our schedule! He has two hygienists and we were able to be seen for our cleanings at the same time. I intend to bring my teenage boys in as well. I will definitely recommend Dr. Kobernik to my friends and family. I read the other most recent review and strongly disagree due to my experiences. Dr. Kobernik was careful to not repeat any x-rays unnecessarily.
My husband broke a wisdom tooth on a Sunday afternoon. We called Dr. Kobernik who saw us immediately. He came to the office in shorts and had a comforting laid back attitude. He quickly put my husband at ease, as he hadn't seen a dentist in over 20 years. The procedure was quick and painless. I had been using a different dentist in Roseburg who was changing out my silver fillings to white fillings. It was a horrible experience. Afterward meeting Dr. Kobernik I immediately switched over to him. I came to his office in tears and he fixed the problems the other dentist had created. Our family highly recommends him. Give him a try!
Dental implants are a great option for replacing missing teeth, improving chewing ability, eliminating bridges, and replacing traditional dentures. Several implants may provide a base for a series of artificial teeth known as a fixed bridge. Implants can even be used to secure a full set of removable dentures for people who have no remaining natural teeth.
Ask about a free implant consultation when you schedule your appointment today.